Human Rights Campaign National Conference Time To Thrive 2018 Orlando
This blog is talk about our experience at Human Rights Campaign National Conference Time To Thrive 2018 at Orlando. This was the second National conference that we have attended. We were proud and privilege to attend a conference with this type of magnitude being only 10 months business.
We learned from the last national conference that shipping all our bow ties is too expensive so I drove a 19 hour journey to Orlando. I left on Wednesday night at 7 pm. I drove to Nashville until 3 am. The reason I did not stop is that I was so excited to make it to Orlando. I slept in until 9 am. Drove from Nashville to Orlando around 10 am. The drive in Tennessee was beautiful, because of all the mountains and water falls. I made it to Orlando and my journey began. I was really hungry to have actual food that was not fast food. I contacted Doctor Ron Holt @DrRonHolt to see if he would meet me to have dinner. I was able to get to know Doctor Ron Holt better. He is nationally known for giving away books, "The Many Shades of PRIDE Coloring book". He is a public speaker and that is how he gives away the books. He is really passionate about empowering people not to be afraid of who they are as person.
This was only a beginning in meeting amazing people.
The next day was able to meet Roddy Biggs @RoddyBiggs. The reason why I was so excited to meet Roddy was because he was our first radio interview with Gay News America. This is the link to the interview.  http://www.blogtalkradio.com/gaynewsamerica/2017/04/25/spectrum-stories-s1-e7
Roddy was also one the first people that we added to the hall fame part of the website. We just added this picture to our Hall Fame Part of the website.
Roddy is a Youth Advocate for Human Rights Campaign.  He is a person that has a huge heart. He helps create LGBTQ+C.A.R.E @LGBTQCARE with Shel Carter @shecarter17 . Shel is person I communicate a lot on twitter. She is another passionate person in this world that wants to make a difference and studying to become a psychiatrist for LGBTQ.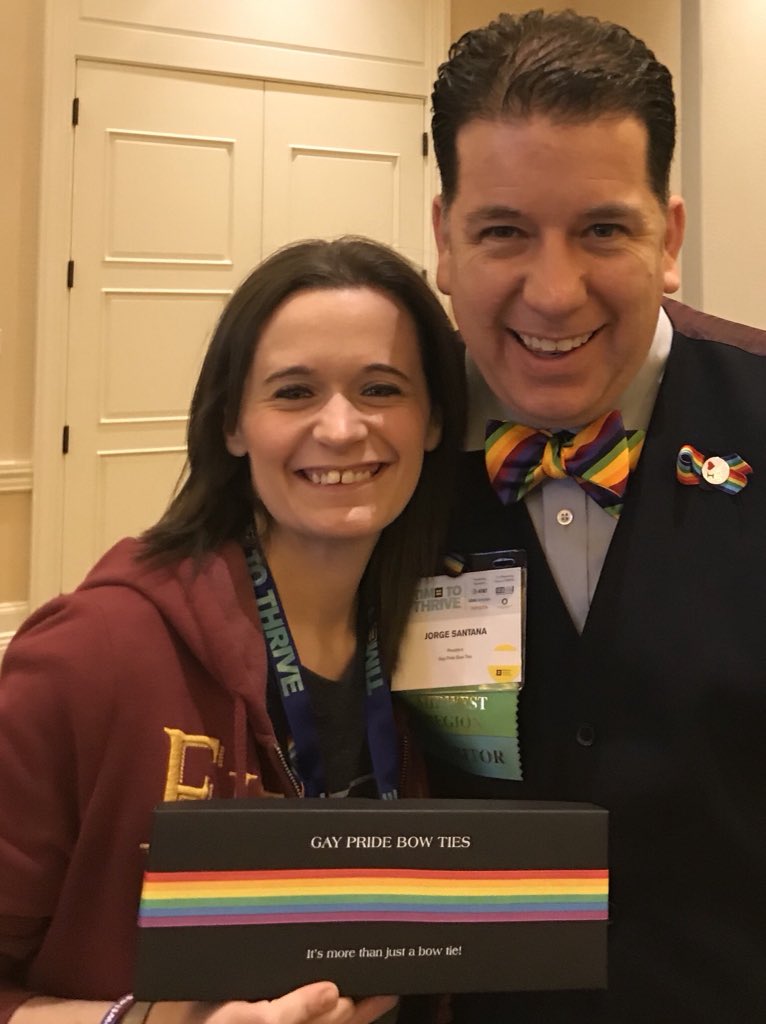 We also added a picture of Shel partner Nikki and Shel to our Hall fame part of the website.
We also felt that there was no way we could go to Orlando and not invite The Orlando Ribbon Project created by Ben Johansen to our booth for @HRC #TimeToThrive. This is the story of The Orlando Ribbon Project @orlandoribbons was created after the Pulse Night Club shooting that killed 49 members of the LGBTQ family. (I also did not know that night was salsa night and most of the people killed were Hispanic). Ben's husband was in charge of the LGBTQ center in Orlando. He created this ribbon to comfort some kids at the LGBTQ center. The ribbons became so popular; he never expected that 2 years after the massacre he would now created 515,000 that would spread love and hope all over the world. Every time there's a shooting he has shipped ribbons to comfort people after the shooting. The ribbon has because a way to let teens know that a person is safe and supporter of LGBTQ. Going forward any National events that we attend we will invite the The Orlando Ribbon Project.
It's also a great privilage that Ben Johansen purchase a bow tie. We added this picture to the Hall Fame Part of the website.
I am also excited to announce that Stefi Honey is our first transgender person in the Hall Fame part of the website. Miss Stefi Honey is a disabled retired. Exec Dir TransUnification Project, non profit She is an amazing role model not only transgender people, but to anyone. She can teach everyone about living life the fullest! This article were she was quoted. https://rewire.news/article/2018/03/13/scary-transgender-patients-fighting-trumps-health-care-discrimination-agenda/
Most of the time I was at my booth trying to promote and sell our bow ties. I was able to escape and see some speeches. These are some of the amazing quotes from the speech:
For a young queer Latino folks like me, Pulse's Latin Nights were pure joy. You could look around and see people who looked like you, who spoke your language, who dressed like you. It was a night you felt free — and safe. All of that changed on June 12. But that night also sparked so much passion and a drive to do justice for the victims we'd lost and those who survived."
– Rep. Carlos Guillermo Smith, (D-Orlando)
"My son Christopher, his boyfriend Juan and 47 others were murdered at the Pulse nightclub. Christopher lost his voice that night, but I didn't lose mine…The news coming out of Parkland this week have been difficult for me to process. I know too well what many parents, students, and loved ones are going through. It's a type of pain and anguish no parent should ever have to experience. And it's for that reason that I will continue to fight to make sure that no parent ever has to again."
– Christine Leinonen, LGBTQ advocate for gun safety & LGBTQ equality, and mother of Pulse victim Christopher "Drew" Leinonen
"Drew and Juan were two people madly in love. Not gay love. Not biracial love. Just love. And it was in their story that I finally found my message. The reason for getting out of bed, tossing off the covers, and stepping onto the front line… It hurts so much to see the coverage out of Parkland this week. These are KIDS. No parent ever feel  afraid to send their kids to school. No LGBTQ young person should be afraid to enjoy an evening out with their friends. No friend, partner, or parent should ever mourn the loss of a loved one like this."
– Brandon Wolf, Vice President of Dru Project and best friend of "Drew" and his boyfriend Juan, who also was killed in the Pulse attack
These quotes and picture bellow are from HRC review of the first day. https://www.hrc.org/blog/hrc-foundation-honors-pulse-victims-at-2018-time-to-thrive-conference
Over all we are very thank full for the Human Rights Campaign giving us opportunity to present our product to all this amazing people. We don't do advertising so presenting our product to people from all over the country helps us get the word out about our product. We hope that next year we can attend as well.
Jorge Santana
President of Gay Pride Bow Ties
Below are more picture from customers received from HRC. We hope to get more in the future.